Welcome to Step 08. Want to jump back to our full 11 step Business Growth process?
Answering questions to educate and attract customers
Why? 72% of businesses are more likely to buy from an expert. Content helps people solve problems. The more education you can provide your prospects and customers before they talk to or meet with sales, the more qualified they'll be when they get there. If your marketing team hasn't been focusing on driving people toward purchasing your products or services, it's time for them to rethink their priorities. Content aligned to sales will help you:
Attract people to your company
Nurture leads through the sales process

As a HubSpot Certified Partner, we use content every day to help our Automotive clients to generate sales. For BTB Exhausts, we used a blog post about manifold design, shared it on LinkedIn as a direct message to car restoration people, and that secured sales of exhaust systems with the special vehicle department in a major OEM as well as specialist restoration companies.
We see content as Attention = Value! And a way to stop sending the same generic sales message and start using content to educate.
Part of our collaborative approach to business growth Why is to have sales and marketing working together on content creation. Why?
Marketing has a better skill set for creating content but sales has access to more timely information
If the message and details in your marketing collateral doesn't align with the message and details in your sales collateral, you're going to have problems and this creates a risk for the buyer, which causes them to pause and pausing loses sales!
And to align this to your content to how your Ideal customers purchase, we use the Inbound Marketing Methodology: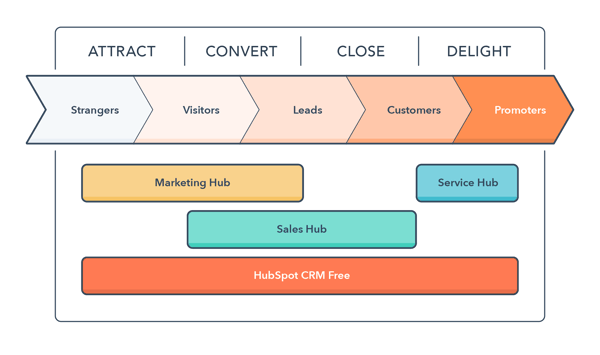 So why content?
If prospects and customers consume more content before they contact you with a sales enquiry then you have a better chance to sell. Instead of sales answering the same questions over and over again, use content to answer and nurture your Ideal customers to create better leads for sales = more time selling and less time explaining!
Our approach to content
We start with content at the Bottom of the Funnel as this talks to people that are at the Decision stage and are ready to buy. This is where your Revenue team (sales and marketing) have to be working together. Why? Even if sales content is easily accessible, your sales team won't use it if it isn't part of their process.
We start by asking your salespeople to look through their sent emails to see
What are the most asked questions? What questions do you get on every sales call and pitch?
Cost questions?
Problems questions (what the drawbacks and issues are)?
Comparisons (your product versus another)?
Best of (for example, the best marketing automation software)?
Reviews?
What do you wish people knew?
What are industry publications and social media talking about?
And lastly, we ask What is stopping you from selling?
Then we run a content audit - we'll cover this when we start working together then every 6-months:
We start by reviewing your Ideal customer research
Do you already have content to explain what buyers want to know at every stage of their buying journey from
Awareness to Consideration to Decision? If not, we'll create that content
An important question is; can sales find the content they need within 1 minute? If not, we'll implement email Templates and a central storage area for documents
Key terms and types of content
The Ideal customer research helps us understand your Ideal customers. Then it's about combining that knowledge with content at different stages of their buying journey to make sure they're nurtured so when they contact sales, they understand the value of your products and services.
This table is a good example of the stages a buyer goes through and the sort of content and terms that are helpful to nurture buyers from when they start their research and education through to when they make a decision on what to purchase.
Awareness
Consideration
Decision
User behaviour
Have realized and expressed symptoms of a potential problem or opportunity.
Have clearly defined and given a name to their problem or opportunity.
Have defined their solution strategy, method, or approach.
Research & info needs
Research focused on vendor neutral 3rd party information around identifying problems or symptoms.
Committed to researching and understanding all of the available methods to solving their defined problem or opportunity.

Researching supporting documentation, data, benchmarks or endorsements to make or recommend a final decision.

Content that shows it's easy to move from their current supplier to you.

Content types for marketing to use (and sales to access)

Analyst reports
Research reports
eGuides & eBooks
Editorial content
Expert content
White papers
Educational content
Email marketing templates

Comparison white papers
Expert Guides
Live interactions
Webcast/podcast/video
Email marketing templates

Vendor comparisons
Product comparisons
Case Studies
Trial Download
Product Literature
Live demo
Email marketing templates

Content for sales to use

Content created by marketing.

Outside of HubSpot: LinkedIn Sequences and Phrases

Inside of HubSpot:
Email Templates
Email and Task Sequences
Snippets

Content created by marketing.

Outside of HubSpot: LinkedIn Sequences and Phrases

Inside of HubSpot:
Email Templates
Email and Task Sequences
Snippets

Content created by marketing.

Outside of HubSpot:
LinkedIn Sequences and Phrases

Inside of HubSpot:
Email Templates
Email and Task Sequences
Snippets

Key terms
Troubleshoot
Issue
Resolve
Risks
Upgrade
Improve
Optimise
Prevent
Solution
Provider
Service
Supplier
Tool
Device
Software
Appliance

Compare
Vs.
versus
comparison
Pros and Cons
Benchmarks
Review
Test

Example
I'm developing a new vehicle for road and motorsport. I've done this before I usually have problems with supply chain or finding innovative product to beat the competition.
I'll check with my regular suppliers as I've used them for some time. I also did some research online and by speaking to my peers. They gave me details of some new suppliers that were publishing whitepapers and look to be knowledge on the topics I need support with.

I've shortlisted the suppliers I want to work with. I decided on the criteria that's needed for this project with regards to specification, delivery requirements, and budget. I know who I'm going with. It wasn't the lowest cost option but they showed the right capabilities and reliability.
But you're too busy to create content
Sitting down to write content does take time; however, as it does need to come from you, we take a different approach to content creation so it doesn't consume your time. How?
We interview you (and others) once a month (first asset created)
We might also capture the interview on video (second asset created)
We'll convert your interview into a blog post for your website (third asset created)
Then we'll create a new email Template using the blog post (fourth asset created)
And we'll store all main documents in a central Content schedule so it's easy to monitor what version we have of each content topic. Then we can go back and look at ways to repurpose and repromote your content.
Publishing content on your website, social media, and on influencer websites and social media
Working from your Ideal customer research and your content schedule, we'll:
Focus on the keywords and topics that your Ideal customer is searching for and we'll monitor and track this using the HubSpot Strategy tool.
Publish content on your website in the form of blog posts with Call to actions that lead to Landing pages with forms to generate leads that lead to thank you pages, thank you emails, and lead nurturing workflows.
We'll share your blog posts and landing pages on your social media profiles
And, we'll promote your content to a target list of 'influencer' websites and social media to increase awareness of your company, products, and services.
Using the HubSpot Campaigns tools, we'll add the campaign goals, timeline, keywords, landing page, thank you page, CTA, posts, and workflow to track ROI
Then we'll regularly review the HubSpot content strategy tool to find new topics
Setting up the tools to make the process efficient
We'll use the auto publish feature in HubSpot Marketing to share blog posts on your social media profiles
And social monitoring to monitor your company name and keywords online
Then we decide who will be responsible for responding to 'online conversations'
We'll also add your teams personal social media profiles and encourage them to share thought leader content
Promoting content using email
We see this as a combination of email newsletters typically sent monthly and emails used within workflows for lead nurturing. The two require a different approach and style so we follow the CAT approach to email marketing to get the best success:
Content
Audience
Time
When we consider the right audience for the right content, we'll take a look at your contacts Lifecycle stage in HubSpot CRM as this is a good indication of the content that will be most relevant to educate and nurture them. We consider the following to be good types of content at each stage of your Ideal customers buying journey from when they're just realising the have a challenge or problem (Awareness), when they're starting to research solutions (Consideration), and when they're deciding who to choose (Decision):
Awareness content can be video, blogs, documents, free tools, and eBooks
Consideration content can be webinars, case studies, FAQs, and whitepapers
Decision content can be reports, demos, consultations, quotes
Once content is complete, we follow the agile approach of 1) theory, 2) action, 3) outcome, 4) learn...