Welcome to Step 10. Want to jump back to our full 11 step Business Growth process?
Some reasons why you should outsource your sales?
Your salespeople are too busy with day to day work.
Your salespeople aren't proactively finding ideal customers.
It's difficult finding experienced people with industry contacts.
You're too busy to train salespeople without experience.
You don't have a CRM and it's difficult for you to grow efficiently.
If you don't have enough in-house experience, contacts, resource, or time, you'll benefit from our Outsourced sales service, which is part of our approach to business growth.
We're actively working a contacts list of 10k+ decision makers in Automotive and Defence and selling to decision makers that hold engineering, purchasing, and managing director roles within vehicle manufacturers, special vehicle operations, Formula 1 race teams, performance tuning companies, and competition parts distributors and dealers.
Our Outsourced sales service includes other services in our Business Growth approach:
You'll get our Kick off, onboarding, and account management service.
Implementation of HubSpot CRM, Sales, and Marketing will be completed in month-1 so we all have the right tools to be efficient at sales, show ROI, and know how to improve. Whilst we include implementation, you are required to purchase the licence from HubSpot at £330 + vat per month.
We'll take you through our Business Growth Launch Plan to agree your sales and marketing strategy, complete your Ideal customer research to know the best way to market and sell, and define your positioning statements.
A business growth manual will be created and will include a lead qualification framework and a Service Level Agreement for Sales and Marketing alignment.
The best results come when Outsourced sales is combined with an optimised website and ongoing marketing activity. We'll happily work with your marketing team or we'll offer Inbound Marketing as an additional cost and something we run with our web and inbound partner. For Outsourced sales what we do include is a Content survey to uncover the content you need to create to help with sales. More on this in the power of content marketing to grow your business.
We create playbooks for each stage of the sales process that we're responsible for. An additional option is to provide your salespeople with Sales enablement.
Our sales activity includes calls, emails, and can include events and face to face meetings.
And, we'll work together as a team to improve all sales activity.
How we handle Outsourced sales activity:
You'll be assigned an account manager.
Your account manager is also your sales person for day to day sales activity, events, and meetings.
You'll deal with your account manager on a day to day basis and for weekly and monthly catch-ups.
Our Commercial Director will oversee performance and join strategy and planning sessions.
The rest of our team will get involved depending on what's required.
On a £4,000 + vat/month subscription, you'll get 52 hours of our time.
In addition to the monthly subscription, we ask for 3% commission on recurring revenue.
We use that time in an agile way and divide it up between all involved to get you the best results.
The budget covers sales activity from The Tree Group office.
If we agree any additional work then it's £50 + vat per hour per person.
If you want us to attend meetings and events then it's £350 + vat per day per person + expenses.
Sales activity you can expect as part of our Outsourced sales service:
We use an email address that looks as though we work for your company.
We setup a VOIP number for inbound phone calls, so we answer the phone as your company.
We get involved in sales emails and phone calls.
We can also attend meetings and events as a member of your company.
And, most importantly, we handle the first part of the sales process then handover to you at the right stage.
Here's what the sales process typically looks like and where we get involved:
1. We handle new leads generated through your website and using Proactive prospecting. Lead sources can be:
An enquiry through your website (somebody that wants to talk to sales).
Somebody viewing content on your website (an inbound lead, much earlier than waiting for them to call).
One of our existing contacts.
A word of mouth referral.
Seeing what companies view your website then approaching decision makers in those companies.
Using LinkedIn for prospecting.
Creating a list of ideal customers and approaching them.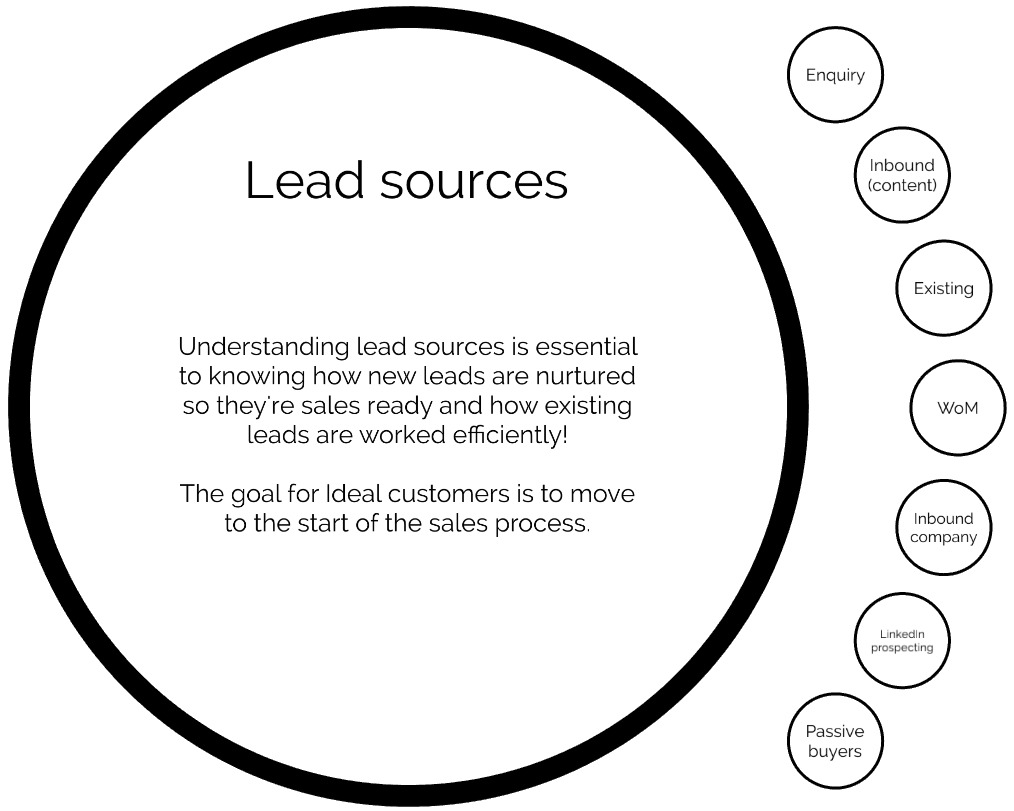 If we agree that LinkedIn prospecting is part of the activity then we'll ask you to pay for the software that we use to make this efficient and at scale. We'll also use your own LinkedIn profile so you get the benefit of the increased connections.
2. The aim is for us and you to be efficient at converting leads into sales. This is a typical sales process:
All new leads start with a phone call as the first step.
Then progress to an Exploratory meeting; over the phone, online, or face to face.
If the lead is qualified and it's a good fit then it'll progress to a meeting.
If relevant, the next step might be a demo.
And the last step is to present and close.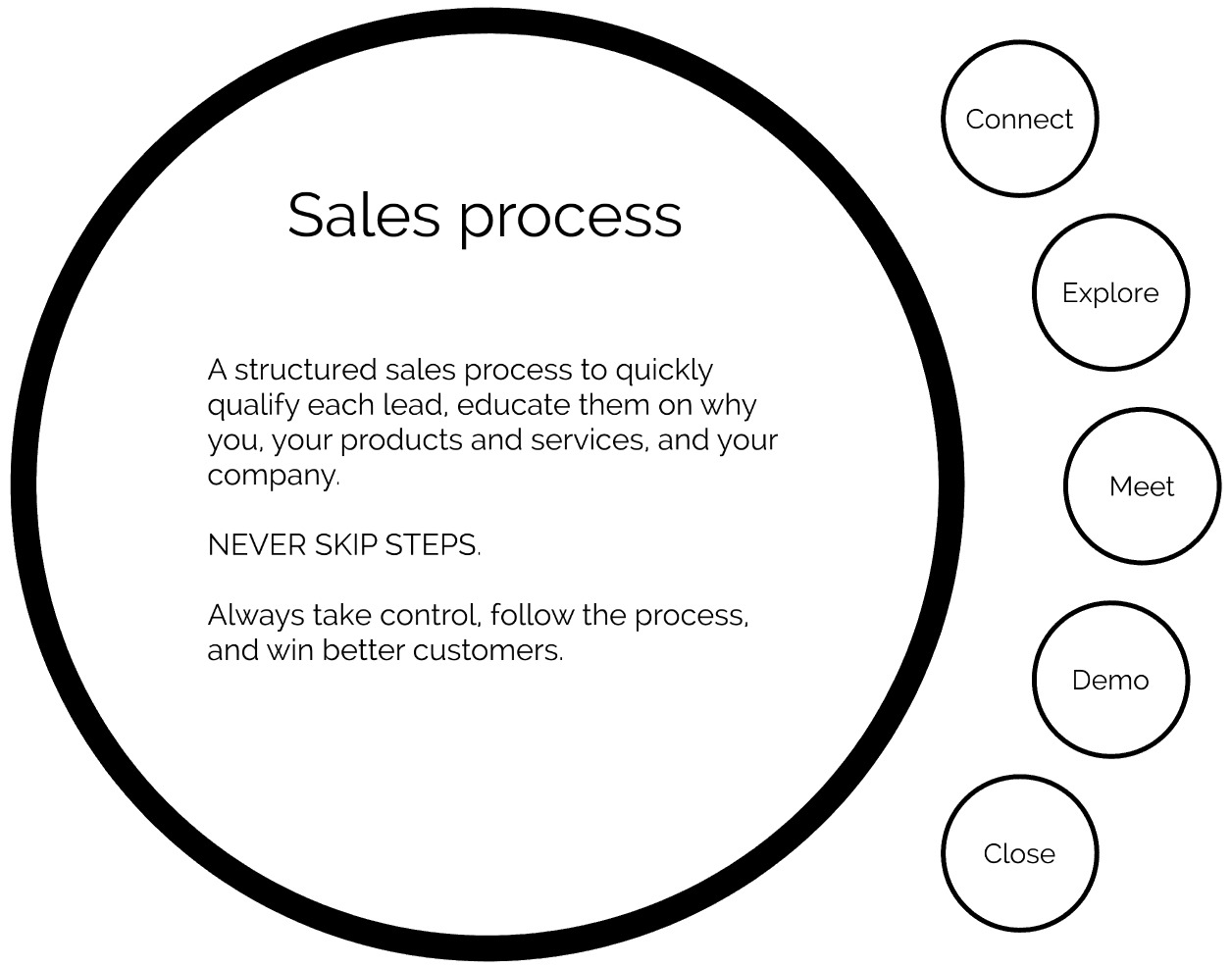 3. We handle new leads and take them through the Connect and Explore stages
This allows us to learn about each lead, share the right sales content, position your products and services, and handover a qualified lead that matches your ideal customer profile and is ready to speak to sales.
We create playbooks to use for these stages to ensure we're efficient at generating qualified leads for you.
4. Then we support you to help you move leads from Meet to Close stages
The Meet stage is the first meeting that includes you and your technical team. It could be a online or face to face. This is where you have a serious sales conversation to learn more about the detail of the prospects business and projects and to share ideas of how you can help them. The Meet stage will create an opportunity that you can quickly win or an opportunity that needs to be nurtured over time. It depends on your products and services and your typical sales cycle.
It's also important for you to be efficient at converting qualified leads into sales. For this reason, we can create playbooks for you to use at the Meet, Demo, and Close stages. This is an additional cost as part of our Sales enablement process.
5. Regular catch-ups
You'll get weekly catch-ups, monthly reviews, and quarterly strategy sessions. The aim of all meetings is to make sure we're targeting ideal customers, spotting opportunities, filling the pot full with a regular flow of new leads, progressing leads efficiently from Connect to Close stages, and reviewing why leads are rejected and deals lost.
More on this can be found in our account management process.