Welcome to Step 01. Want to jump back to our full 11 step Business Growth process?
Why is the start of working together so important?
We like to think of our kick off process as 'red carpet'. It's a well structured and smooth process to make a seamless transition to start working together.Our approach is all about planting the right seeds so we build a successful and long-term partnership with you.
The Kick off process
This step is all about gathering as much information from you as possible so we can then learn your products and services and put together the plan of action so you can benefit from our Business Growth process.
Before the Kick off meeting
We'll send you the agenda so you know what we'll discuss and what to prepare
We'll ask you to complete the Sales and marketing strategy questionnaire as this allows us to gather a lot of business information to discuss during the Kick off meeting. It's also the first step of our Business Growth process so we get a head start on the work.
The kick off meeting normally takes 2-3 hours and includes
Confirm who will attend the kick off meeting from our side
Review of the proposal and agreement - to walk through what was agreed and use this to build out a Roles and Responsibilities SLA
Review goals, plans, challenges, and timeline
Based on the deliverables, we'll also walk through expectations
Review of Ideal customer profile and persona
Handover items to gather information about your company, products, and services - the list of items will be emailed to you before the Kick off so you have time to prepare.:
As we start to gather your content, we'll create a content schedule so we have an easy to access A-Z of alI your main content.
If HubSpot Marketing Basic or above is part of the programme, we'll walk through
Activating your portal
Technical setup
Training requirements - if you've signed a minimum 6-month services agreement with us then we handle training directly with you, if you haven't then you'll be required to purchase HubSpot training.
We'll agree your template creation and potential website migrations - HubSpot offers an initial, complimentary template creation for all new customers to match your current website design. HubSpot can also migrate your entire site over to HubSpot HubSpot COS. 60 pages are free then additional pages are charged on a per page basis. All we have to do is get the migration approved by HubSpot first to know if a migration is possible.
We'll confirm the licence that you'll be on, which we'll have agreed during the consultation process to match the right HubSpot platform for your business growth goals.
We'll also walk through the HubSpot contract so you know their cancellation, auto-renew, and upgrade process as you see growth with your contacts, email sends, and website visitors.
Lastly, HubSpot is FANTASTIC at support so we'll signpost you to all the resources you'll have available.
If HubSpot CRM implementation is included - we'll walk through our CRM implementation planning process that will typically include:
Create CRM account
Setup users and permissions
Create properties to make it easy for you to segment your contacts
Setup views to help with with your day to day sales activity
Define deal stages
Import contacts
Setup users with the extension to record sales emails automatically and give you live notifications
We'll also add some sample email Templates to get you started
Choose your marketing solution and as a minimum start with HubSpot Marketing Free so that your website form submissions are automatically added to your CRM plus so you can show pop up lead flows on each page of your website to generate inbound leads.
Once setup is complete, you'll be onboarded by working through the HubSpot Sales Training Kit so you quickly get up to speed and benefitting from HubSpot.
If we're doing sales activity for you
The choice is yours if you want us to work white labelled. Typically the client sets up an email address for their account manager to use. If you prefer to have a generic email, such as customers@yourbrand.com, or if you prefer an unbranded email, that's fine. All we ask is that you cover the cost to make this happen as we never use our own The Tree Group emails for client Outsourced sales activity.
If you're not using G Suite or Office 365
We'll ask you to setup a G Suite account and purchase an alternative domain name as part of the process. This is so we can use the sales tools that help to make us efficient.
We can also setup a VOIP number for inbound calls
If you like, we'll setup a VOIP phone number with an area code that matches your own. This means that when we receive calls to that number, it shows it's a call for your company and we can answer as thought we're in your office.
Once all numbers and emails are confirmed, we'll ask you to print some Business cards for your account manager to use.
Roles & Responsibilities SLA from us to you
We'll include this in your Business Growth manual to confirm your account manager, explanation of contacts within The Tree Group, who will be responsible for each of the main tasks, deliverables agreed before we started working together, and milestones and metrics.
Project management process
Before we get started we'll ask how often you'd like to be in contact, typically
Recording main actions - We'll do this in a centralised Actions list
Collecting ideas and points to discuss - We'll setup a shared Ideas note in Google Keep
At each catch-up, we'll review the Actions document and Ideas note
Weekly - We'll start with 30-minute sessions then reduce this once we're up and running
Monthly automated reports - You'll get these on the 15th of every month
Monthly - Once a month we'll switch from a standard weekly catch-up to a 30-minute ROI review
Quarterly - Once a quarter we'll switch from a 30-minute catch-up to a 1-hour strategy review
Yearly - Instead of the quarterly 1-hour, we'll go for a half day offsite business growth review
Making some of the process touchless
We'll use a number of online tools and this means you'll be able to get common answers and check up 24/7. This keeps our time working together as efficient as possible so we're all focused on achieving your business goals.
Regular check-ins and renewals
It's important to know how we're doing and where we can improve. For this reason, each quarter we'll ask for your feedback to short survey.
Before renewals, we'll check in with you 90 days before any renewal dates for services and software so there's plenty of time to review the performance so far and plan the goals and strategy for the next phase.
Lastly, we'll use the 90 days before your services renewal date to fill out an updated version of the Developing a sales and marketing strategy questionnaire so we can benchmark your answers and plan for the next 12-months.
Next steps after the Kick off meeting
Collate all the notes and share a shared Kick off document
We create a shared Kick off document with a list of what we discussed during the Kick off meeting and have this as our initial project management list so we know the tasks to complete to get setup.
Confirm if there are any ad hoc costs
We'll work through what was agreed during the kick off and if there are any 'optional' items that you agreed to, such as creating a contacts list, or the additional costs, such as HubSpot, we'll confirm this over email to get your approval before sending a final invoice for TTG costs or an activation link for HubSpot.
We'll also explain that your contract for HubSpot is direct with HubSpot as anything we setup for you with and in HubSpot is owned by you.
The methodology we use for business growth, sales, and marketing
An explanation of how this works, the terminology, and where we all fit into the process.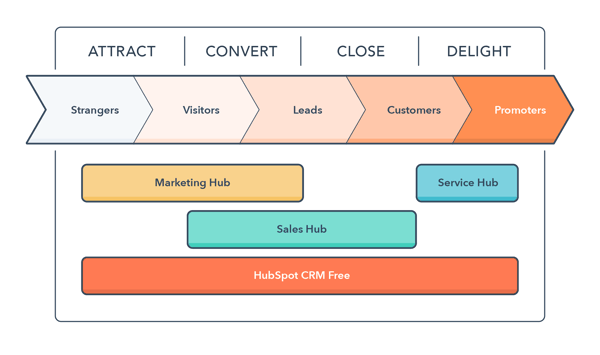 Walk through of our business growth process
Post the Kick off meeting, these are the next steps to get started and ongoing
Document your sales and marketing strategy
Setup your CRM and sales tools
Complete Ideal customer research
Create your hero statement
Develop a lead qualification framework
Create a sales and marketing SLA
Audit your content then create a content plan
Agree the sales process
Confirm sales prospecting (if we're providing outsourced sales)
Setup your reporting dashboard to use for each catch-up