Don't interrupt your target audience, attract them
Turn your website into a magnet. Create content, optimise it for search engines and share it on social media. Then engage your prospects and customers with landing pages, calls to action, personalised email and a personalised website. That's how you market to humans. That's inbound marketing.
Inbound in a nutshell
Inbound Sales and Inbound Marketing is a cost effective way to generate leads, acquire and retain new customers in a way that makes your team efficient. It's also an approach that matches how your Ideal customers buy and improves your brand image by turning your company into a thought leader.
Attracting your Ideal customers
Create blog posts, ebooks, videos, and other content that answers questions your prospects and customers are asking. Optimise it for search engines and share it on social media.
Convert website traffic into sales leads
Turn website traffic into leads with powerful offers. Use landing pages to promote valuable material. Engage serious prospects and customers with clear calls to action.
Delight your customers in order to retain them and upsell
Help your leads become delighted customers. Collect the information they share with you so you can help them on the issues that matter most to them. Inbound is the best way to turn strangers into customers and promoters of your business.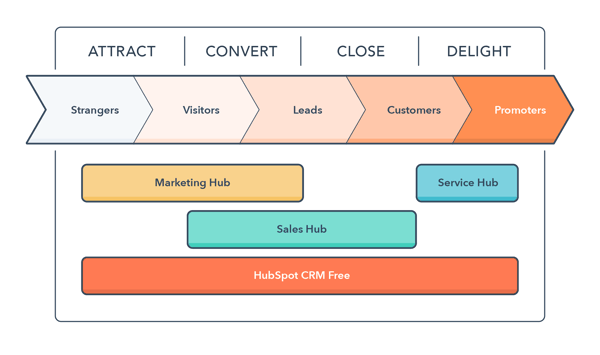 Along the top are four phases (Attract, Convert, Close, Delight) that turn strangers into visitors, leads, customers, and promoters. The methodology becomes even more powerful when implemented with your sales and customer success strategies.
Along the bottom is a full stack of software for marketing, sales, and customer success, with a completely free CRM at the core. They're powerful alone — but even better when used together, helping you grow with the entire inbound methodology.