Communicating with your contacts should be seamless; start a conversation with live chat on your website; progress to email; and follow-up on the phone. But, most businesses do this using different tools that aren't linked, which wastes time and ends up with a poor customer experience.
This is why HubSpot launched Conversations.
Conversations is a universal inbox that gives sales, marketing, and customer service teams a central place to easily view, manage, and reply to all conversations -- from live chat, email, and phone.
AND, what makes this even better is Conversations comes with the FREE HubSpot CRM so your sales and marketing teams can see a timeline of all activity for every contact, company, and deal. Plus, for larger or more complex companies Conversations can be upgraded with Professional and Enterprise level features.
ALSO, you'll have access to Bots, which is artificial intelligence for your Live Chat to save your sales and marketing team having to respond to every request, to help qualify a lead before passing to sales, or to offer answers to common questions.
Here's a quick summary video with more detail below:
Who is Conversations for?
You'll want this feature if you want to or already have implemented live chat on your website. You'll also want Conversations if your sales and marketing team are regularly answering common questions and handling customer enquiries.
Conversations is also perfect if you're already using HubSpot CRM and Marketing.
Lastly, if you have a simple qualification system with clear conversion paths and know where you want to direct your leads then you'll be a good fit for Conversations and Bots with artificial intelligence.
The unified inbox is a great feature for sales or customer support teams that use a central email address, such as support@, that may be managed by multiple people.
Use live chat to connect with leads, prospects, and customers on your website
Your ideal customers want information, now! Live chat automatically connects visitors on your website with the right people in your sales and marketing team and can even use artificial intelligence to qualify your website visitors first before connecting them with the right person in your team or answering questions so your team can spend their time elsewhere.
Your live chat can be customised to match your company branding, and have targeted welcome messages relevant to the type of website visitor or for different sections and pages on your website.
Once a chat is started, it'll pop up in your universal inbox, use Slack, or use the HubSpot mobile app if you're out of the office. You then stay in your universal inbox to take notes, send emails, make calls, schedule follow-up tasks, create support tickets, and more — right from the inbox.
Every conversation is automatically saved in your Universal Inbox and on the contact's timeline in HubSpot CRM so everyone on your team get a crystal clear view of every interaction.

Connect shared email addresses so it's easy to collaborate
If you use central emails such as support@ or sales@ that are accessed by multiple people then some opportunities might slip through the cracks. You can easily connect those emails to the Conversations inbox so it's easy for your team to manage with a transparent view of every email.
Routing rules make it easy to assign emails to specific individuals, or share them evenly across teams then you can apply filters to easily sort through relevant conversations.
When you reply, you'll see contact information in the sidebar of your Universal Inbox so you have all the context you need to craft the perfect response. Plus, you'll have access to HubSpot's free productivity tools like email templates, canned snippets, sequences to automate follow-up emails and tasks, and tracked documents, to help you draft emails in half the time.

Use chatbots to automate live chat conversations and answer common questions
Instead of your sales and marketing team having to manually answer the same repetitive questions over and over, use Bots to do the work for you.
HubSpot's chatbot builder makes it easy to create bots that help you qualify leads, book meetings, provide answers to common questions so your team can focus on more valuable conversations.
Because HubSpot's chatbot builder is part of the HubSpot Growth Stack of sales, marketing, and website products, your bots can deliver friendlier, more personalised messages for each contact based on the information you already know about them.
Screenshots of the Conversations tool
Start with Live Chat on your website. Either a member of your team can chat live or use Bots with artificial intelligence to handle to first part for you, qualify the lead, answer common questions, then handover to a member of your team when ready....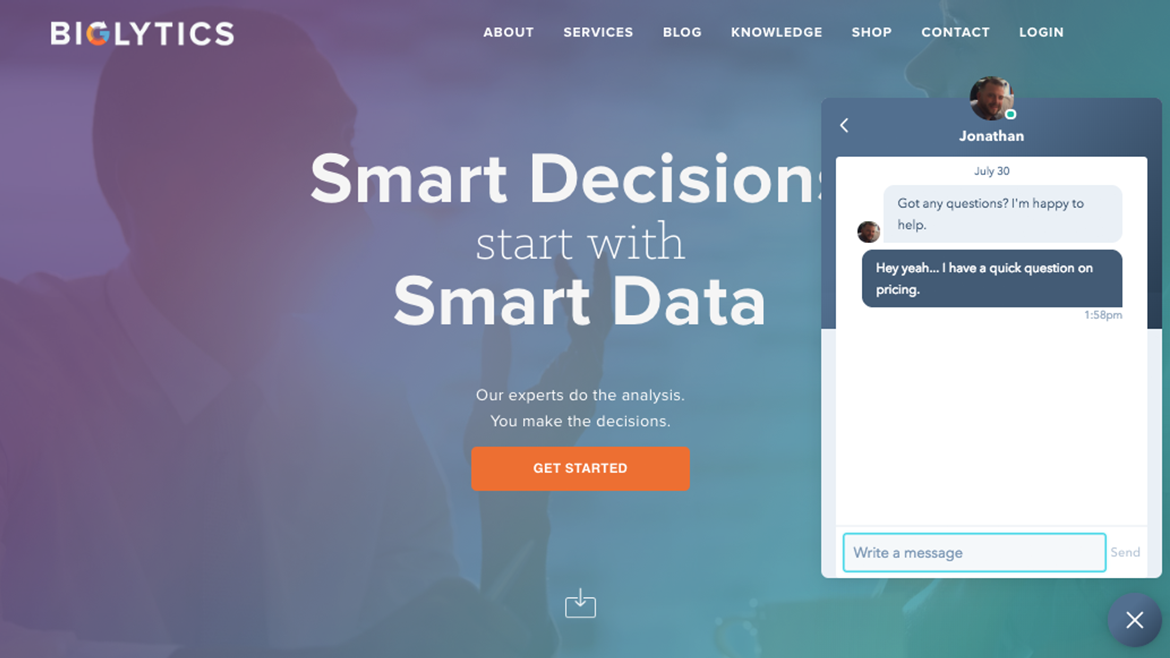 With a variety of messages so your live chat is targeted to the type of person on your website or the section of page of your website...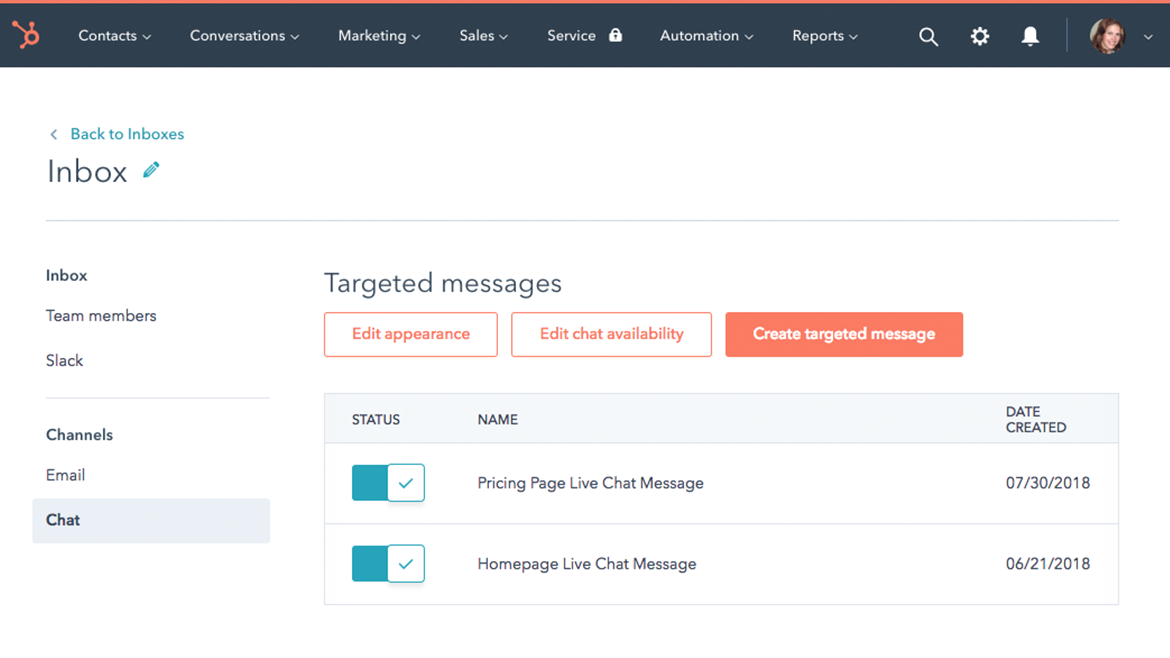 Setup rules to assign incoming conversations to the right person, people, or teams...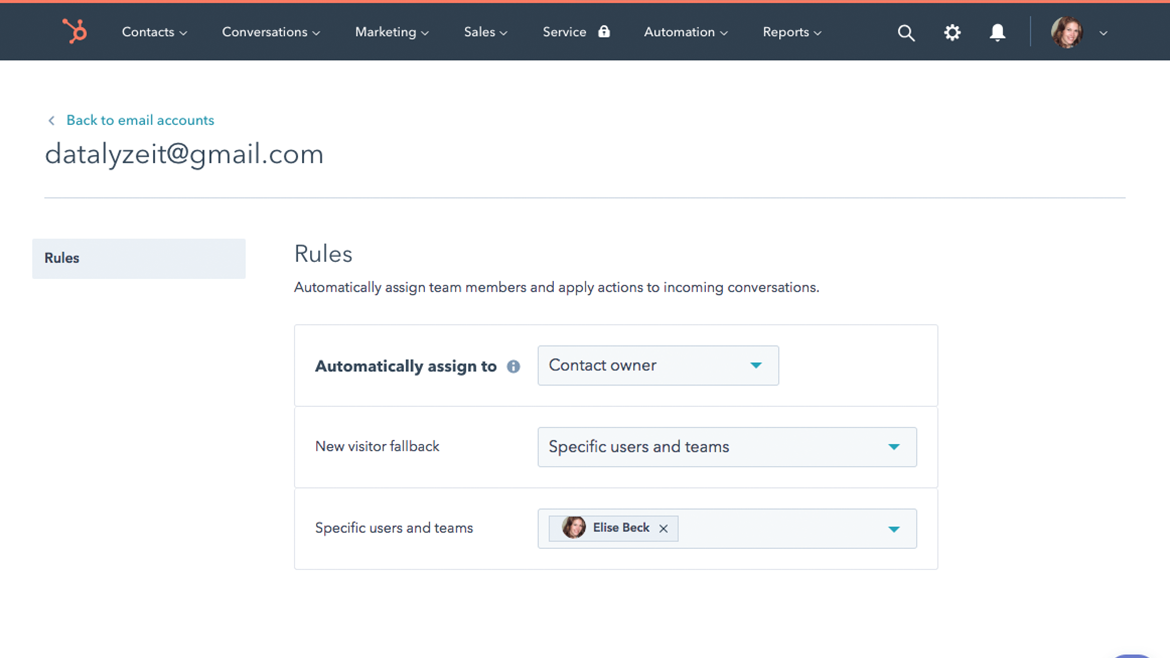 And connect your team email accounts so you can use the Universal Inbox in HubSpot CRM to easily manage incoming email alongside Live chat, phone calls, and Messenger...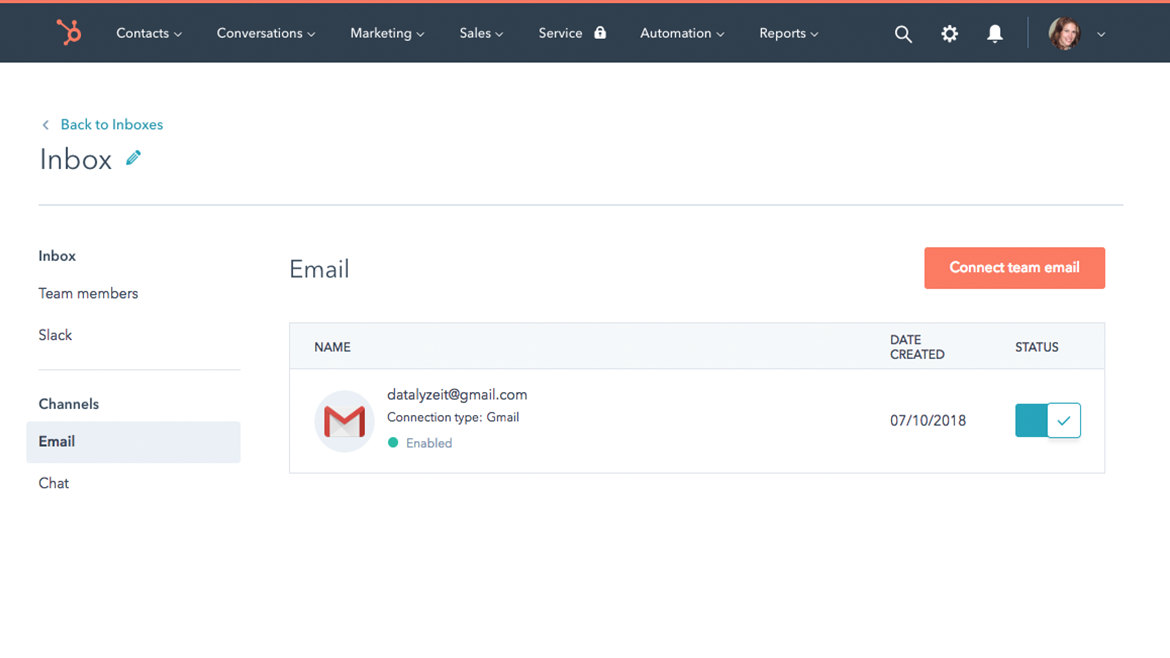 To get one central view of all activity in your Universal Inbox...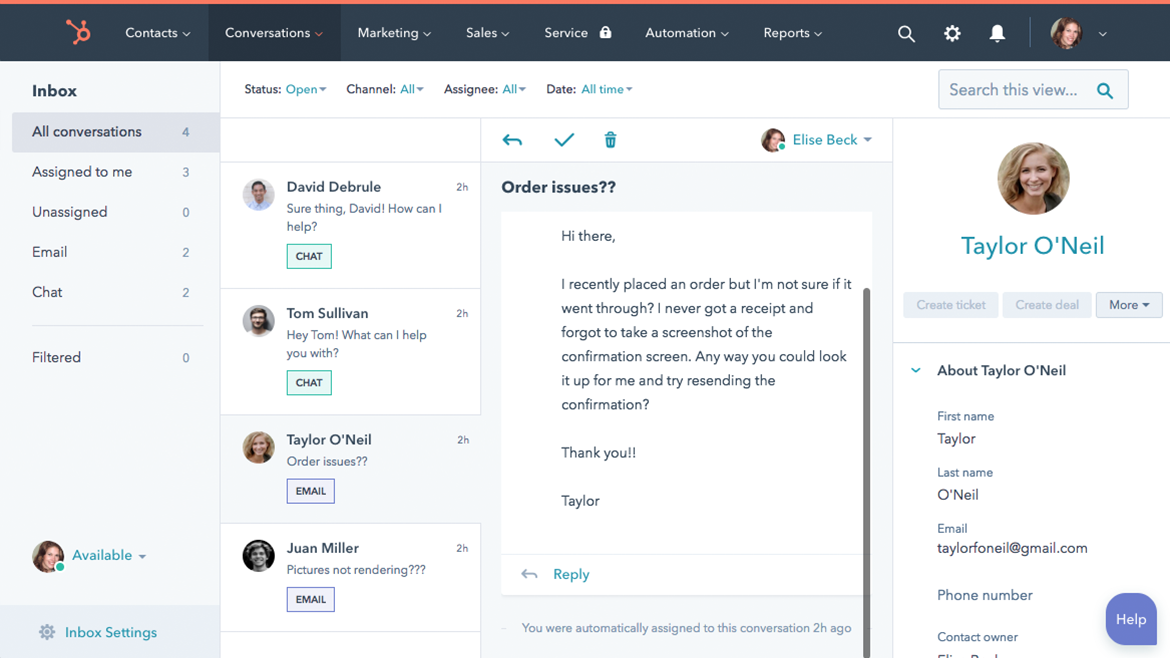 Then use Bots to help your sales and marketing team to scale. Let Bots and artificial intelligence handle the early part of the process, answering common questions, then route people on your website to the right person, people, or team.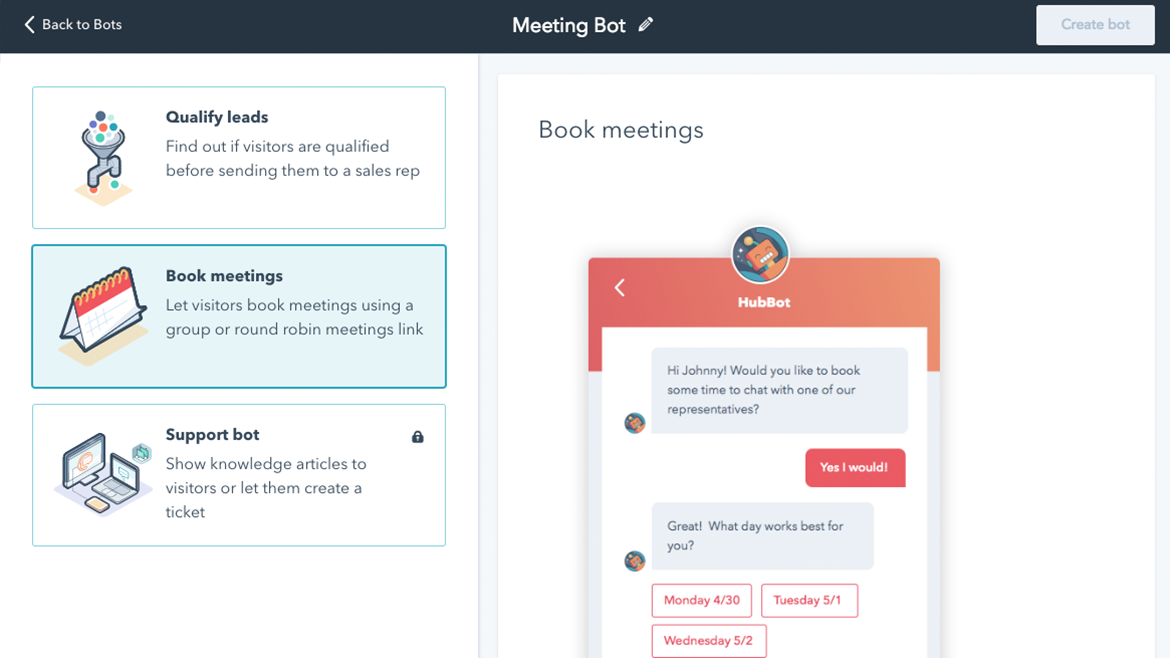 With the knowledge that the Bots feature, and it's logic, can be customised for your own company, your messaging, sales process and conversion paths from lead to prospect to customer.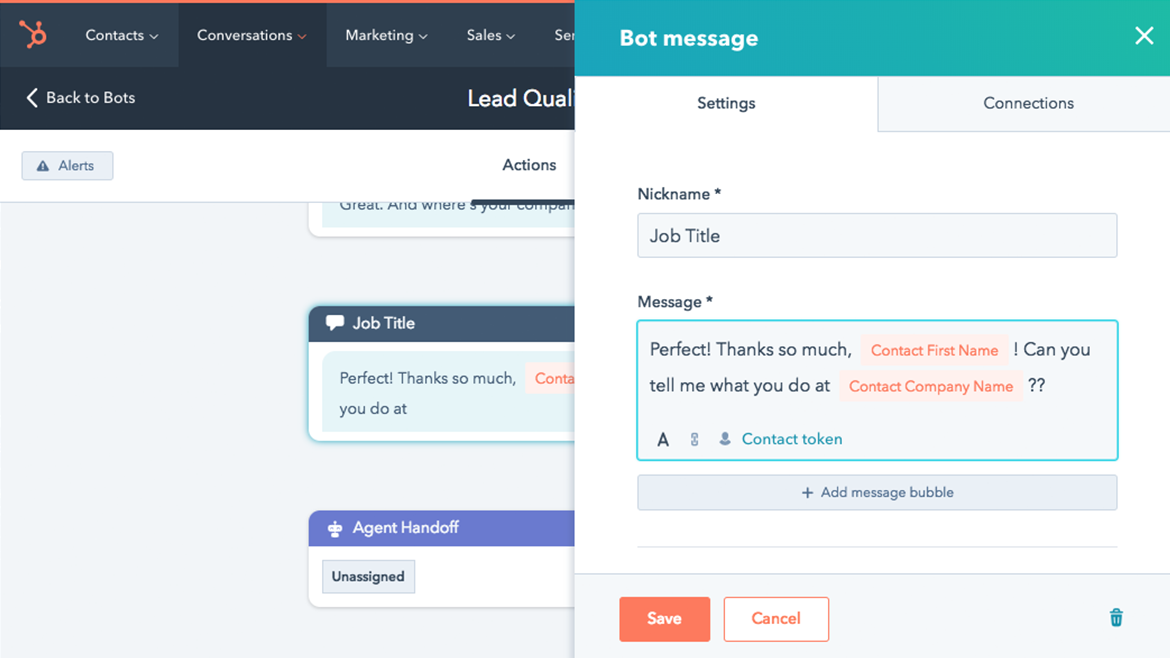 Want to learn more about using live chat and bots in your sales and marketing activity?
The Tree Group is a business growth agency that combines sales, marketing, and websites to help Automotive companies in the UK with at least 10 staff and a desire to grow by 15% in the next 18 months. Does that sound like you?
Start by booking a free business growth consultation so we can learn more about your goals and challenges before recommending the best solutions and next steps.