As part of our series on 'The Modern Sales Process', we're looking at what successful sales teams do when selling to the Modern Buyer...
So, how many of you have some kind of documented sales process or methodology your sales team follows?
We use the Inbound Sales methodology as it is designed for selling to the Modern Buyer.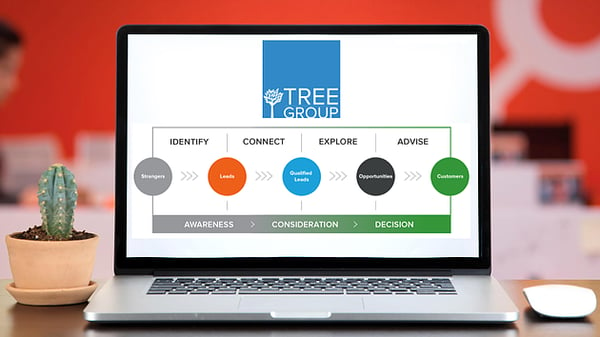 We're a HubSpot Sales Partner, so I'm going to showcase how we use their sales products to accomplish an inbound sales process for our clients.



Companies that view your website = Warm lead
HubSpot has a Prospects tool within their Sales platform. When people come to your website, we can see what companies they work for. It provides information into the number of visitors to your website and the pages they've viewed. These people are explicitly showing signs of interest in your company. We call them Inbound Companies.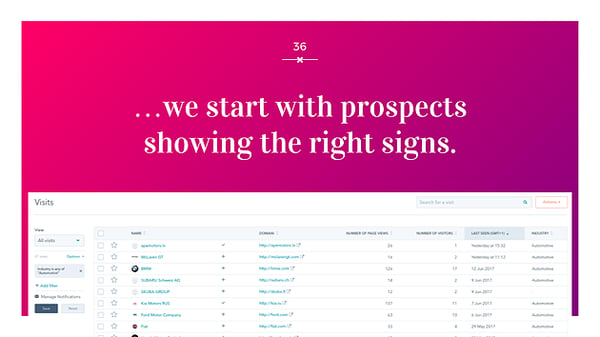 The example above is a live screenshot from one of our clients. The Prospects tool has the ability to filter results. You can see I've done a basic filter just to show Automotive companies viewing the website.
We do a weekly check of the Prospects tool to find companies that are Ideal customers. If there are repeat visits from a company that is already a lead, we update the sales team as this is now a reason for them to make contact with the people they're pitching to. Alternatively, if new companies come to the website, we take time to find the decision makers at those companies then approach them already knowing what they're interested in. It means, no more cold calling but calling for the first time with context and relevance. They came to the website for a reason. Approaching them in the right way will start a sales conversation much earlier than waiting for them to contact us, which might never happen.
It's about contacting interested visitors, so visitors can learn and buy on their own terms.
Be efficient at tailoring every message to every prospect
Now that we know what our prospects are interested in, our first approach to them can be tailored specifically to their needs and interests.
We use Hubspot CRM and Sales Pro to set up customisable email Templates. This saves us typing out every email from scratch, it automatically inserts details from the CRM, such as their first name, company name, job title, and allows us to spend more time customising the email to each individual person. No need for mass generic emails but instead we can do personalised and contextual one to one emails on mass.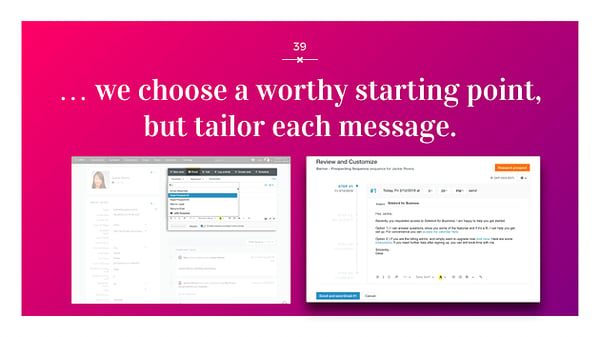 The screenshot above left shows an example of a contact in Hubspot CRM, where we can see all activity of that contact, what documents they've viewed and even what pages they've looked at, what emails they're opened, what links in emails they've clicked, what phone calls we've made to them and if we connected or left a message.
The screenshot above right shows the start of a sales campaign. Hubspot calls them Sequences.
Sequences are multi stage sales campaigns made up of up to five different email Templates plus as many Tasks as we want. All fully customisable and sent one to one to each of our leads.
We send the campaign and Hubspot automatically sends all other steps until we get a reply. When we build sales campaigns we normally start with:
An email in week one

A different email in week two

A task to call in week three

A different email in week four

A different email in week five

A task to call in week six

A different email in week six
The beauty of Sequences is that we don't need to remember to follow up. We'll then use our experience of selling for Automotive and Motorsport companies to know the best way to use content and different styles of email writing to make sure we add value to the people that we approach, use different channels so it does not feel repetitive, and most importantly, tailor each piece of outreach so it's relevant to each person.
Lastly, we monitor the performance of every email Template and Sequence to make sure we optimise our emails to get opened and replied.
I would like to note that we still use email marketing in the form of a monthly email newsletter and see this as a different channel and format of communication. We normally see email newsletters as a soft sell way to keep in touch, once a month with the latest updates.
Want to learn more tools and techniques?