Learn how to centralise all of your sales activity by tracking and recording your calls, meetings and messages, and knowing the documents and pages that your prospects have been looking at.
Hi and welcome again to our "How-To" series. This time we're looking at how you can centralise all of your sales activity so everybody in your business knows what's being said to each prospect enabling you to streamline your sales process.



Keeping Contacts
The view in the screenshot below is a typical view of a CRM. What you can do, from Outlook or Gmail, is jump directly from there into Hubspot CRM. Hubspot CRM allows you to easily search for people and companies and from there you can go into each person's contact record.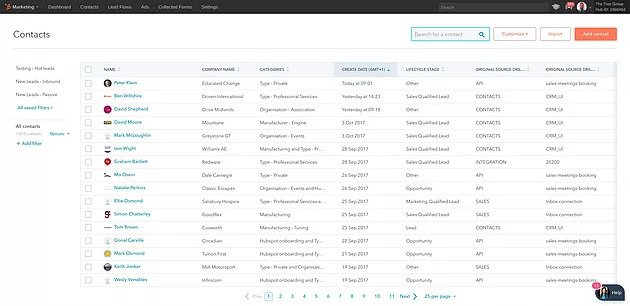 Contact Information
You'll have the basic information down the left hand side which is somebody's contact details and how you categorise them. You can also see:
What stage they are at in the sales process

Where they were created from (so it might be from a sales campaign or just a business card scan)
Then on the right hand side you have the activity feed so you can see:
The meetings that have been booked

Whether this person has been looking at our sales documents

What pages of your documents each person as viewed and for how long. Hovering over the information icon gives you a reminder of what page has been viewed

When their lifecycle stage has been updated so you know this person is moving through the sales funnel

That phone calls have been made and if phone calls get connected and what the phone call was about

Any email activity
In short you have a really rich view of everything that's gone on for this person. So, if the salesperson that normally looks after this account is away, it really doesn't matter, anybody can login to the CRM and know what's been said to a prospect or customer and know what activities happened.
This CRM is also the central place where you can email this customer or prospect outside of Outlook or Gmail. From this view you can call them, you can log certain activity like a call, an email or a meeting or you can create 'to-do' tasks. Centralising all the information about a contact is easy because everything is tracked automatically. This directly improves your sales activity.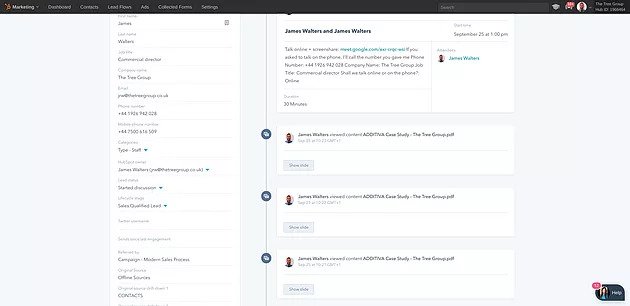 Analyzing Emails
Inside the sales tools area you can look at the performance of emails. I'm not talking about mass email Marketing emails, I'm talking about your one to one sales emails that you normally send from your Outlook or Gmail. Everything is tracked automatically and logged into the CRM, then you can come into the CRM to analyse performance. You can see performance based on the time period you choose. You're going to see:
How your email templates are performing. Are they being sent out enough? Are they getting clicked enough?

Email performance for different people in your team

How many replies you are getting for each of your email templates
Previously, this information just wasn't available. Typically for sales emails, replies are what you want. This level of analytics allows you to see trends over time so you can improve the performance of your sales emails.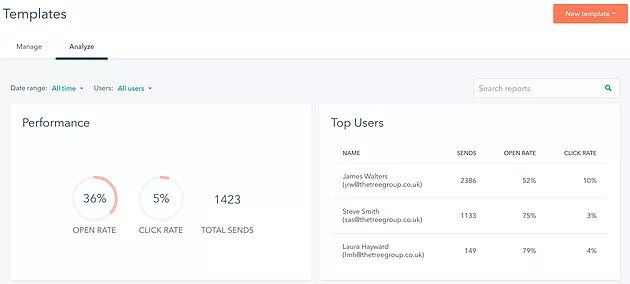 Document Tracking
Using Hubspot, we can do the same for documents. Most people will send out a PDF document as an attachment and there's really no way to know how well that performs because it's not monitored and it's not in a structured fashion. So instead, you can upload your documents into Hubspot then share a link for people to view.
Doing it this way shows
How many times the documents have been shared

How many people have looked at them

The average time that they have been used for
The screenshot below shows you
The recent document views

The individual stats for each document

Who has viewed them

How long ago it was

What slides they viewed
It's really making what's previously being a invisible, visible so that you can improve your sales.
The same goes for Sequences. These are multi step sales campaigns. You can see how they are performing based on the different stages. You can see who is on each sequence, what step they are on and then you can jump straight to that person to view more details about them. It's all about stopping manual activity and automating your follow-up emails and reminders to call so you can genuinely improve your sales activity.