In this blog I will show you the best ways to prioritise your day and manage your inbox in order to keep in contact with your top customers and prospects
Hi and welcome back to another of our How to blogs on how to be efficient at selling in the automotive industry. This time we're looking at how to prioritise your day.
The screenshot below is an inbox full of emails and this is a view that most salespeople look at everyday. It's very difficult to see the wood for the trees and it's very easy to miss things. So why not plug-in live notifications so you know who your most engaged contacts are, what are they are looking at, and even if they're currently on their mobile or sat at their computer.



The Hubspot icon in the screenshot below is present when using Hubspot CRM and here it's got the number two on it. That's telling me that two things have happened with my contacts plus I'm going to get live notifications as more activity happens. If you click on the icon you can see the contacts that have opened an email, clicked a link from an email, and viewed a document. If somebody has viewed an email, you can even see where they are and if they're on a mobile device or computer. You'll also see how many times they've opened an email so you can prioritise the most engaged prospects.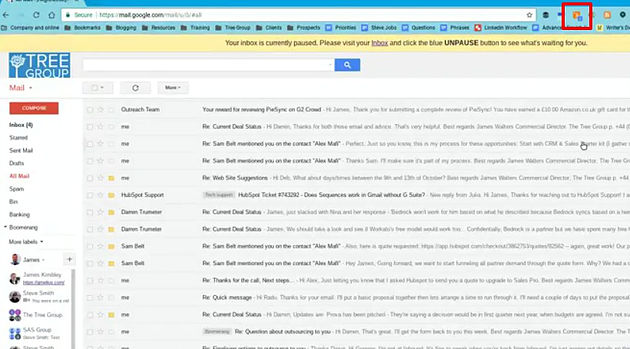 From the screenshot below, you can see that our website has been visited and that Abbas has opened my email 4 times and on what days and times. You'll see the small icon that tells us if the person is on a mobile or computer. Having this information live allows you to prioritise your day based on who's the most engaged. You might see a notification pop up that somebody opens your email and they're on a computer. If you've been trying to get hold of them for a while, now is a great time to call as it's likely they're sat at their desk.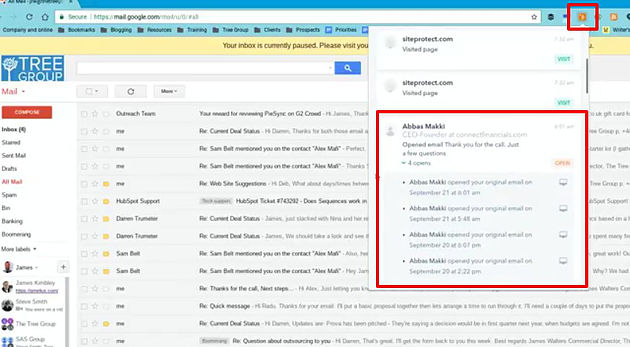 The notifications also allow you to see who hasn't opened emails, so you can try a different approach to make contact. Whilst the notifications feature comes from Hubspot CRM, the beauty of the Chrome and Windows extensions is that you don't need to be looking in the CRM as you'll get live notifications in Chrome and Windows.
You also have the option to open the notifications view in Hubspot CRM, such as in the screenshot below. Here, you can sort prospects by activity based on who has opened emails, hasn't opened emails, clicked links in emails, what companies and people have visited each page on your website and one of the most important ones - who has viewed documents and what documents they have viewed. These are typically the people who are the most engaged.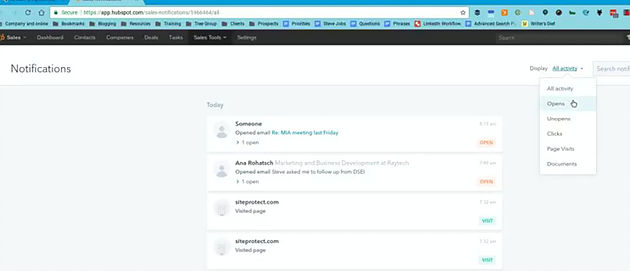 From the Notifications view in Chrome, Windows, or Hubspot CRM, you can jump directly to the person in the CRM to get a full picture of their activity and history with you. At this point you can decide your next move, which could be picking an email Template to send them or choosing a Sequence if you want to send them a sales campaign with multiple emails and tasks.
So to recap; live notifications in Hubspot CRM is a great way to prioritise your day and to focus on your ideal customers and most engaged prospects.