In this series we will show you how you can be the best sales team in eleven actionable steps. This week we will look at a great Hubspot feature that shows you how to prioritise your time. Join us next week for part three on Knowing What Companies Visit Your Website.
Use Hubspot CRM/Sales to:
Monitor lead activity 'live' in CRM

Know when contacts read emails and documents

Never miss a sales opportunity


Once you know your ideal customers and you have the right tools set up it's about working smart and prioritising your time with your best prospects. This isn't done by guessing, this is done by using the CRM to know which of your prospects are the most engaged. When we work with automotive and motorsport clients we set up different views in their CRM to easily get a live view of:
Which contacts are opening emails the most

Which contacts are looking at documents

Which contacts haven't been emailed or called recently.
If a lead is generated but they aren't quite ready to buy, this approach allows you to see if they start engaging with the content again in the future. In this way a suddenly active buyer and subsequent sales opportunity is never missed.
The cost for this feature: Hubspot CRM is free forever. Some of the engagement stats are free but if you want full access then you'll need a Sales subscription that starts at $50 per user per month.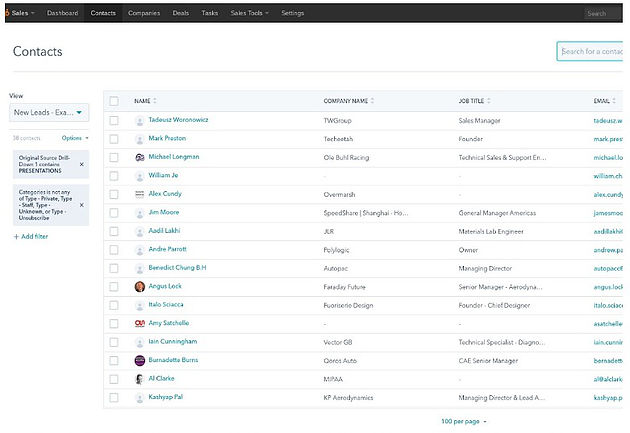 Above is a screenshot from our own CRM. You can see a list of contacts with their email addresses. All these contacts were generated using our website and we call these inbound leads. These contacts will have:
Viewed a piece of content on our website

Entered their email address
Then we will:
Do some research on them

Update their contact details

Decide if they fit our Ideal Customer Profile
We can then approach them, already knowing what they are interested in, and start them on their active buying journey.