In this series we will show you how you can be the best sales team in eleven actionable steps. This week we will look at the Hubspot features that can help you to stop wasting time on processes that could be automated. Join us next week for part six on Engaging Prospects When They are on your Website.
Use Hubspot CRM/Sales to:
Schedule and send multiple emails and tasks for each lead

Never forget to follow up by email or phone
Sales teams no longer have to worry about not having enough time to follow up leads and missing opportunities due to this excellent Hubspot feature, Sequences. Sequences is my number one favorite feature of Hubspot Sales. Heres how it works:
You set up your customisable email Templates

You put them into a Sequence where you choose when each email will be sent (if there's been no reply)

You add Tasks to call or engage with the lead on social media etc

Sequence and Hubspot Sales schedules everything for you so you can't forget

As soon as the contact replies by email or books a meeting the Sequence stops automatically

You can include up to five different email Templates and as many tasks as you want

You can easily create 10 weeks of activity with every step being different so it feel natural for person you're trying to sell to
The main features here are Automated email follow-up and call reminders; Hubspot is smart enough to know when a prospect replies and automatically stops the campaign.



The main benefit is that it reduces the likelihood that a prospect slips through the cracks.
The cost for this feature: You'll need a Sales subscription that starts from $50 per user per month.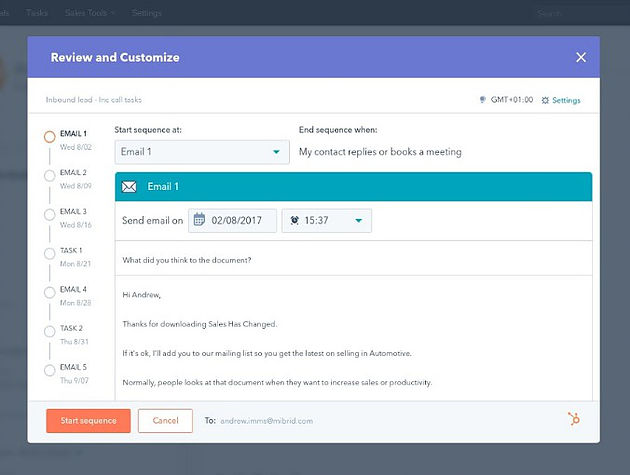 Above is an example of sending a new sequence to a contact. On the left you can see the different steps that I've set up:
The first step is an email

The second step a different email

The third step another different email

The fourth step being a task, which could be a phone call or engaging on social media and so on.
Any information that exists in the CRM for each contact can be automatically merged into your email Templates. You can see in the main email window that this has happened with the person's first name.
Then before sending the sequence you take time to craft every step so each one is a relevant and different message, then choose what day and time you want to send the first step and Hubspot does the rest. It's that easy.
No more manual notes in your calendar to send an email

No more scribbling on your notepad to make a phone call
Just send the sequence and you're going to nurture each and every contact over a number of different steps. Don't forget, the majority of sales people give up after one attempt but the majority of sales need at least five attempts. You will be the sales person that never forgets to follow up.