In this series we will show you how you can be the best sales team in eleven actionable steps. This week we will look at how you can use Hubspot's Templates, Sequences and CRM to track every sales attempt.
We looked at examples of how Templates, Sequences, Documents, and Meetings can be accessed directly in Outlook or Gmail and the screenshot below is just an example of the hubspot sidebar that sits next to your emails in Outlook or Gmail.



When you're emailing or calling anybody in Outlook or Gmail you can see most of the information that exists for each contact in hubspot CRM such as:
Typical contact information about the person you're emailing or talking to such as job role, company, lifecycle stage, or the status they are in your sales process

Typical company information such as address or social media profiles to help you build a rich picture of the latest updates and news at their company so you have more context before replying

The contact timeline with all activity such as what emails they've received, what phone calls they've had and you'll even see this if it's happened with another sales person because Hubspot CRM merges all activity in one place for each contact

Any deals that are open, progressing, or closed and also what tasks and sales jobs there are for each contact.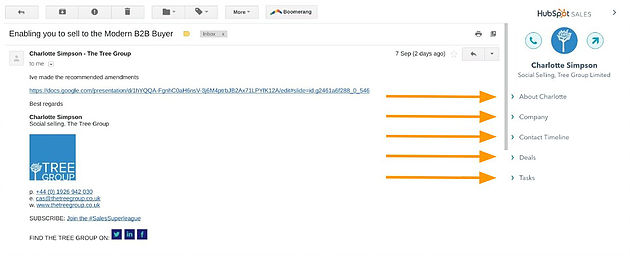 With Hubspot CRM there's no need to learn dramatically new systems, there's no need to stop doing what you're doing, there's no need to stop using Outlook or Gmail. What Hubspot CRM and Sales will do is supercharge your own Outlook or Gmail and give you the tools you need to differentiate your company against the competition. It's the opportunity to:
Reduce a lot of your manual sales work

Improve the intelligence you have about your Ideal customers

Allow you to prioritise to help improve sales and productivity
The cost for this feature: Hubspot CRM is free forever. You can add a limited amount of Templates and Documents and make a small number of calls for free but if you want full access then you'll need Sales subscriptions that start at $50 per user per month.