In this series we will show you how you can be the best sales team in eleven actionable steps. This week we will look at how knowing the right documents to send at the right time will help generate sales... Join us next week for part ten on Responding Quickly to Leads.
Use Hubspot CRM/Sales to:
Make it easy to access content

Easily add documents to sales emails

Review performance of content
Content is where the biggest shift needs to happen in sales for small to medium sized automotive and motorsport companies. It's no longer about bashing off generic sales emails with your generic brochure attached.



It has to be about:
Knowing the right content to use and at the right time

Having a variety of content that will educate your ideal customers on how your product or service can help them

Giving them reasons to choose you over your competitors

Giving them the facts of why they should go ahead and buy your products or services
Having a central system to manage and access all sales content is essential because it will not only save time, but you will also get reports showing what content creates sales. Also, having Hubspot Sales means that all of your sales documents are easily accessible when you're sending an email in Outlook or Gmail. When you're writing an email you just select the document you want to include and it's done; no going to a different system, no hunting around a server struggling to find the content you want.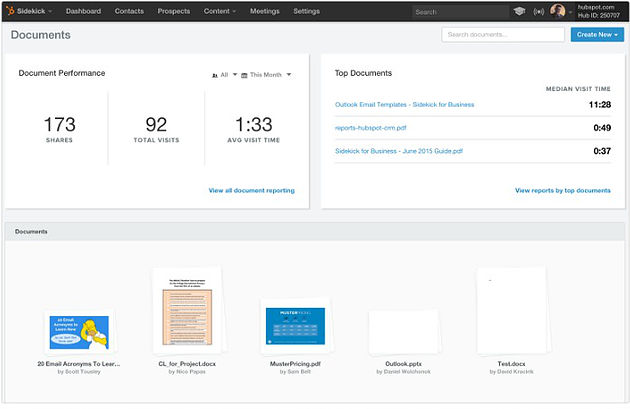 The example above is the view you'll get inside Hubspot CRM. You just upload your PDF documents to the CRM and include links to those documents in your emails or on your website. Importantly, you can see the document report so you're going to know what content actually generates sales.
The Sales Pro subscription gives you extra reporting for every document. Including every individual person that's looked at each document, and even what pages they've viewed and for how long. No more guessing or old-school PDF attachments that take ages to download or stops emails being delivered.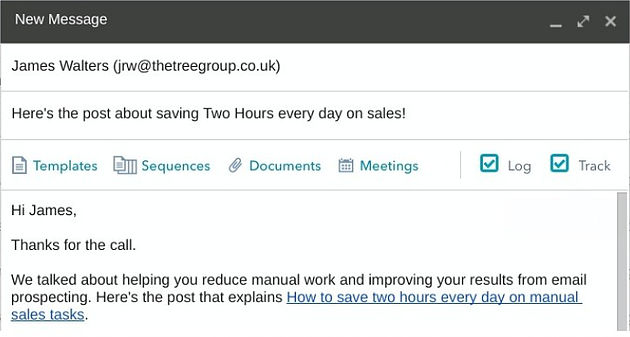 The example above is how this works in Outlook or Gmail. You just create a new email or reply to an existing email, click the document button and choose the document you want to add as a link into your email. It's that simple.
The cost for this feature: You can add a limited amount of documents for free but if you want full access then you'll need the Sales Pro subscription that starts at $50 per user per month.