As always you can listen by watching this video or read on...
Before working with an agency it's normal to consider employing sales and marketing resource in-house. In our experience, having the right sales and marketing resource in-house is a benefit to then working with an agency and you will get the best results. One example is lead generation with the agency handling prospecting and converting leads into qualified leads then the in-house sales team taking those qualified leads and closing them into customers and sales. In the example of marketing; the agency is there for strategy, planning, technology setup, reviews and recommendations of how to improve, and the in-house marketing team is there for content creation, publishing, and social sharing etc.
An agency should also bring processes, procedures, and technology that is tried and tested and can be up and running so you see results as quickly as possible. On that topic, this article walks you through the kick off, onboarding, and account management process that should come with an experienced automotive business growth agency.
How you start is important
The start of your relationship with an agency should have a well structured and smooth process. It's about planting the right seeds to build a successful and long-term partnership.
The Kick off process
This step is about gathering as much information as possible. You'll need the agency to learn your products and services as quickly as possible.
It's a good idea to create your sales and marketing strategy at the start. Any investment you make has to be to achieve your goals so it's important to get the strategy agreed first. This is actually a step you want to complete before deciding to work with the agency, otherwise, they won't be making the right recommendations.
You'll want a thorough first meeting to get things moving quickly. I'd suggest this agenda
Kick off meeting normally takes 3-4 hours.
Confirm who will attend the kick off meeting.
Review of the proposal and agreement; walk through what was agreed and use this to build out a Roles and Responsibilities SLA.
Review goals, plans, challenges, and timeline.
Based on the deliverables, you should also walk through expectations.
Review of Ideal customer profile and persona.
Handover items to gather information about your company, products, and services.
At this point it's a good idea for the agency to collate content into a content schedule so you have an easy to access A-Z of all your main content.
If marketing technology is part of the programme
You'll want to get your account or subscription setup so you have access to the new system or systems. That will be followed by technical setup from the agency and a training programme for your in-house team from day to day use up to board level access for reporting. There may be a requirement for you to have a minimum term of onboarding so it's good to check this up front.
If your new systems include your website and email marketing, you should agree any template creation and website migration requirements plus other implementation requirements.
If sales technology is part of the programme
There should be a formal implementation process, especially if Customer Relationship Management software (CRM) is included because there are considerations about using the system alongside your email service provider (such as G Suite or Office365) and your email client (such as Gmail or Outlook).
As a quick list, this is a good set of work to check for CRM implementation:
Create CRM account
Setup users and permissions
Create properties to make it easy for you to segment your contacts
Setup views to help with your day to day sales activity
Define deal stages
Import contacts
Setup users with CRM access in their email client (Gmail or Outlook) to record sales emails automatically and give you live notifications
Setup of email Templates to get you started
It's essential to get the sales team excited about the new tools, using them, and seeing a benefit. Adoption can be difficult so this is a part that the agency must take seriously. To help, we use a Sales Training Kit to quickly get sales people up to speed.
If you're outsourcing your sales activity
The agency should have walked through how they'll handle your emails and phone calls. Ideally you'll want the agency to be white labelled so they use emails @yourdomain.com and a phone number for inbound calls so they can answer the phone as your company. In our experience of selling in Automotive, especially when it's a technical sale with a complex sales process, using a traditional telesales model just doesn't work as it's obvious the people making the calls don't work at your company and don't understand what you do. Getting the white labelled part working well is important.
Some things for you to consider before letting an agency email and call on your behalf
What email account will they use?
If you use G Suite or Office365, do you need to create an account for them?
If you don't have a cloud tool for email and calendar, does the agency have a solution?
Can you provide IMAP and SMTP email access if the agency will use their own email and calendar software?
Does the agency use a VOIP telephone system and can they setup a number just for you so they can answer the phone as your company?
Will you print business cards and have the agency attend events and meetings on your behalf?
Roles & Responsibilities
Getting your roles and responsibilities Service Level Agreement (SLA) is important. I've used one man band agents in the past and they haven't worked out. My experience of outsourcing any work to freelancers, agents, or agencies is that you have to be very structured, 110% clear of who is responsible for what, and you have to have complete visibility into where they're doing. This is why the agency you select should make all of this easy.
If the agency is experienced, they'll create an SLA for roles and responsibilities and will include:
Who will be responsible for each of the main tasks
Deliverables agreed before you start working together
Milestones
Metrics
Here's an example of one of the SLAs we use to show the flow of responsibilities from strategy through to customer support: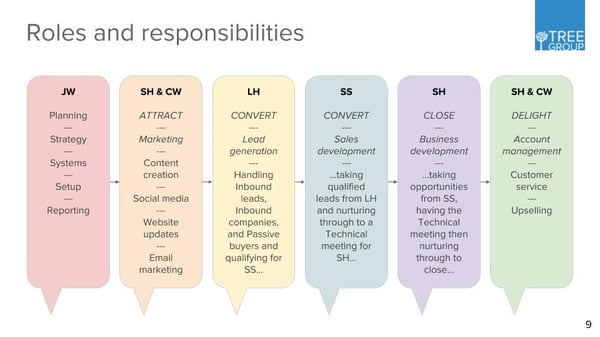 An efficient project management process
If the work is efficient then your agency will spend more time getting results for you and less time on admin and manual tasks. Look for this in the project management process:
Recording main actions - Do this in a centralised Actions list
Collecting ideas and points to discuss - Have a centralised way to collate (this stops bouncing emails back and forth and keeps ideas for review meetings)
At each catch-up, you'll want to review the Actions document and Ideas note
Weekly - Start with 30-minute sessions then reduce once you're up and running
Monthly automated reports - If you use the right systems, you can get regular reports automatically for website, sales, marketing, and ROI
Monthly - Once a month you'll want to switch from a standard weekly catch-up to a 30-minute ROI review
Quarterly - Once a quarter you should switch from a 30-minute catch-up to a 1-hour strategy review
Yearly - Instead of the quarterly 1-hour, you should go for a half day offsite business growth review
Making some of the process touchless
The agency should be using a number of online tools so it's easy for your team to get common answers and check up on progress 24/7. This keeps your time working together as efficient as possible and focused on achieving your business goals.
Regular check-ins and renewals
If the agency is outward facing, they'll have an open and honest approach to how they're doing and where they can improve.
Before renewals, it's a good idea for the agency (or you) to check in before renewal dates. That gives plenty of time to review the performance and plan the future goals and strategy. At this point you might want to take a look back at the sales and marketing strategy you completed before working together to benchmark your answers from year to year and plan for the next 12-months.