On the topic of Automotive parts websites, we're going to cover some important considerations for a website, technology that will improve the customer experience, and a common mistake that most companies in Automotive make when launching a new website. This is part of our series on Automotive website design...
As always you can read our blog, watch the video on YouTube, or listen on iTunes and Soundcloud...
Making it easy for your ideal customers to find the right products on your website
Ease of use has to be a top priority when planning an automotive parts website, and it can be the biggest challenges with web design, especially if you have multiple categories of products. Your home page will typically attract the most visitors so it's essential to have a nice modular layout that allows visitors to easily jump to the sections most relevant to them.
Starting off with the right page template pack makes it much easier to achieve the optimal page layouts and website structure. Because it's linked to ROI, we always start with the HubSpot CMS as it shows you what pages generate the most website visitors, leads, and customers, the source of your best customers (so you can spend more time investing in those channels), allows you to make updates without a programmer, and because it's all-in-one with the other sales and marketing tools.
We typically head over to the HubSpot Marketplace and shortlist three website template packs that are the best fit for each company. This takes away the heavy lifting without the need to develop each page and code from scratch. Then we modify each of the templates with the right branding, logo, and style as well as modify layouts and structure so they're fit for purpose. An example of one of the template packs we used recently is the Growth Series Pack in the HubSpot Marketplace.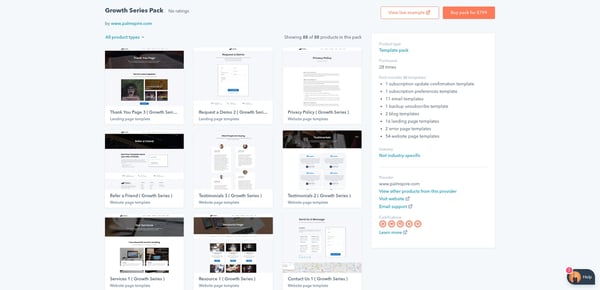 Customise the content for each visitor
Smart content is a great way to signpost each website visitor as it can be setup to automatically change for each person based on their location or based on the information you have stored about them in your CRM. With Smart content there's no need to have a 'one website for everybody', instead you'll have 'a website that works for each person'.
One example of Smart content is if you have dealers and distributors
Smart content is added into certain pages on the website
When a visitor arrives, HubSpot CMS knows their IP address
Their IP address = their location
Based on their location the Smart content changes
You can signpost a website visitor from Spain to their local dealer or distributor
And you can do the same with all other locations
Helping to drive business to your dealers so you can focus on trade sales
Another example of using Smart content for contacts already in your CRM
Joe Bloggs is a lead in your CRM and categorised as a Motorsport Manufacturer
Your company wants to deal direct with manufacturers
When Joe Bloggs visits your website
Smart content signposts Joe to your company (instead of your dealer or distributor)
It directs him to a page that shows how your support manufacturers
That page has a Call to Action that leads Joe to book a technical meeting
The same can be done to signpost t other sections of your site etc.
A common mistake with website design
This one is simple: Not asking your ideal customers what they want.
You cannot make sensible decisions about a new or updated website unless you have the facts. Some of those facts come from data analysis in tools like HubSpot and Google Analytics; however, the most powerful facts come from researching your customers and prospects. Knowing what they want and what they need are critical parts of planning a new or updated website.
A typical list of what your ideal customers want is:
Know the latest innovations
Keep up to date with the latest industry regulations
Need to trust their suppliers
Get quick answers
Just based on that typical list we know that the website should have a knowledge base of articles, automated emails to keep contacts information on the latest innovations and regulations, a document management section where customers can login to access the latest documents, lead nurturing to educate around customer support, and live chat with AI to instantly answer common questions and route through to sales and support staff.
You can find previous posts in this series on our blog, at iTunes and Soundcloud, or on YouTube.