In part 1 of our series on The Sales Process, we looked at how to Plan the Sales Process. Here's part 2 with 5 Sales Process Steps. Join the #SalesSuperleague.
The 5 Step Sales Process
Your Sales Process will be specifically tailored to your reps but should include these general steps.
Step 1: Prospecting
Firstly you need someone to sell to. This is lead generation or prospecting. Here you will create a list of potential leads and conduct preliminary research to find out their contact information. You can use social media, your existing network or customer referrals to give you a starting point. You can also use tools like Hunter.io and Zoominfo.com to find contact details, just remember that you may need to comply with GDPR regulations.
Create an ideal customer profile to identify your target audience and help your sales team target them more effectively.
Step 2. Connecting
You only get one chance at a first impression so make it a good one! On this call introduce yourself and your company but keep it lighthearted, personal and relevant. The aim is to change this from a sales call to a call where you are just offering some advice and trying to help (this approach will immediately make your salespeople better than your competitors who will likely be giving everybody the same generic sales pitch). The goal of the connect call is to schedule a first appointment. The best way to do this is to offer a solution to a problem or goal. If you can show you can help them fix it, they are much more likely to want a follow up appointment that we typically recommend to be an Exploratory call.
Step 3: Qualifying and Setting Goals
During your Exploratory call you need to ask qualifying questions. You need to make sure you are pitching to the right person, that the company has a need for your products and services and if they are having issues with their current supplier or service. Are they an ideal customer and ready to make a purchase now, or will they be looking to make a future purchase?
Try to use the BANT framework: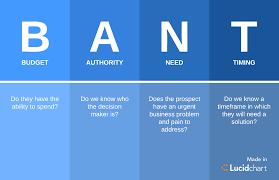 https://www.lucidchart.com/blog/what-is-BANT-and-how-can-it-streamline-lead-qualification
B - Budget. Can they afford what you are selling?
A - Authority. You need to be speaking to the decision maker.
N - Need. Why do they need your product or service?
T - Timing. Do they need your product or service now or in the future?
The main aim here is to ensure their is a mutual fit. There is no point spending valuable time and effort trying to sell to a company who are not ready to buy. If you're selling a complex product or service then you'll need to invest time in each prospect and opportunity so be selfish with your time, spend it in the best way, and avoid wasting your time or the time of your prospects and customers.
After the Exploratory call you may need a planning or technical meeting stage. This enables you to exchange specific details, make some recommendations, and determine a plan that can help your clients reach their goals. Be prepared to give a sense pricing, develop a plan that shows you understand their business, and keep your prospects engaged. Listen to any worries or objections your prospect has as this will give you an opportunity to understand their perspective and reframe your sales pitch accordingly. At this point you should also reiterate the cost of not purchasing your product or service, ie missing out on something that will fix their challenges or help them achieve their goals. Also, the beauty of a multi-step sales process is that it gives you time to build a relationship and show your professional credibility so you have a better chance of winning the sales when you get to the stage of asking for their business.
Step 4: Demonstrating Value
If you have a product that your prospects will use, either physically or online, the demo stage is where you prove that it is the right solution for your prospect and set up a personalised demo. This is to show how your product will work for your prospect and your chance to show that you fully understand your their requirements and have the solution to help. Alternatively, at the demo stage, you might be presenting samples or exchanging CAD or specific project details.
Step 5: Closing the Deal
You have qualified your lead and addressed their concerns, now you need to close the deal and all of this has been done using your sales flow chart and playbooks to make sure you follow a repeatable process that can be monitored and improved (also, there's a lot to remember in a consultative sales process so the flow chart and playbooks mean you always cover the important steps, ask the right questions, and use the right content at the right stage.
Firstly you need to pitch correctly. Give compelling reasons why they should buy from you, recap your prospects goals and targets, show the positive impact of using your products or services over that of their current supplier or competition, present a plan, and inspire confidence in your ability to deliver.
Make sure you have buy-in from the decision makers on both sides.
Get ready to sign.
Tips to push them over the edge. If they are stalling then a limited time offer can sometimes push them to sign. Also don't confuse them with too many choices.
Always Look to Improve
You should always be looking at ways to improve your sales process. Track any changes with sales activity and metrics and see how the new process affects your sales pipeline, revenue, and customer satisfaction.
Your sales process will always be a work in progress, but monitoring will keep it efficient and effective.
About The Tree Group
The Tree Group is a business growth agency and HubSpot Certified Partner that combines sales, marketing, and websites to help Automotive companies with at least 10 staff and a desire to grow by 15% in the next 18 months. Does that sound like you?