As of 30th July, HubSpot Marketing Starter now includes email marketing at £42 per month based on 1,000 contacts. HubSpot Marketing Starter is all the tools you need for converting traffic into leads, engaging them with email, and tracking them with helpful insights and analytics along the way.
This is big news. It's always been possible to get started with free CRM, sales and marketing technology but the bit missing from the puzzle was a low cost option for email marketing. Until now our clients used MailChimp. It was never the best option because it meant having separate systems with separate contact lists. HOWEVER, the latest update from HubSpot means that email marketing is now included with the HubSpot Marketing Starter platform.
What you get with HubSpot Marketing Starter
First, lets start with what you get for free
CRM with contact management, contact and company insights, company records, Gmail and Outlook integration, Deals, and Tasks.
Marketing with lead analytics dashboard, Forms to capture leads from your website, Contact activity, and Facebook & Instagram lead ads
Sales with email scheduling, email tracking notifications, email templates, documents, calling, meetings, and canned snippets
Getting started with the free HubSpot Growth Stack means you'll be able to manage all contacts and activity in one place with closed-loop analytics to know the sources of your leads so you can invest more time and money in the right places.
And, all of that is free for unlimited users, forever, and store up to 1 million contacts and companies. Nice!
Now, lets take a look at the Marketing Starter upgrade
This is the first of the paid HubSpot Marketing hubs and it's the start of your journey with a Growth Stack that helps one person businesses all the way up to enterprise companies. With Marketing Starter you get some additions to the free version such as HubSpot branding removed from forms plus phone and email support but the big update is email marketing and lists.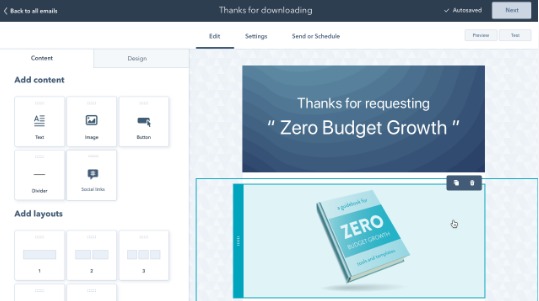 Why is email marketing a big update to Marketing Starter?
Managing multiple systems (CRM, sales, email marketing etc) just adds complications and the biggest consideration is having separate contacts lists in different systems. We've always worked with the HubSpot Growth Stack because it makes life a lot easier by having your sales and marketing technology in one place. With this update it means you now have the chance to simplify your systems and get started with HubSpot a lot earlier at a much lower budget (as of 30th July, Marketing Starter is £42 per month based on 1,000 contacts).
Having access to the HubSpot Lists feature is also important. If you're using MailChimp, the way you segment your contacts is ok, but it's not that intelligent. The HubSpot Lists features gives you a lot more control over the different types of lists you create and has the ability to have complex filters so your marketing is highly targeted.
If you'd like more information on moving from MailChimp to HubSpot email marketing you can book a free consultation or take a look at our Get started with free technology offer.